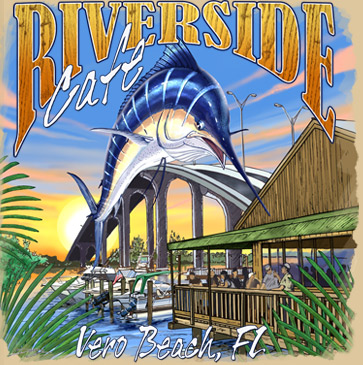 Appetizers
Conch Fritters
(pronounced Konk like Honk) Served with a island calypso dipping sauce - 9.99

Calamari
Lightly Fried rings and tentacles served with marinara sauce - 12.99

From the Raw Bar:
Peel and Eat Shrimp
(Enough to split)
Hot or cold served with drawn butter and cocktail sauce.
Full pound - 16.99
1/2 pound - 10.99

Loaded Nachos
Crispy tortilla chips, chili, jalapeños, olives, onions, fresh tomatoes and a blend of three cheeses. Served with salsa and sour cream - 11.99

Fried Mozzarella Moons
Lightly coated half moons of gooey cheese with our house made marinara - 10.99

Chicken Quesadillas
Large grilled flour tortilla stuffed with pulled chicken, 3 cheeses, black beans and caramelized onions - 11.99

Bang Bang Shrimp
Tossed in a tangy sweet chili sauce - 12.99

Chicken Wings
Your choice of ten served Hot, Medium, Mild, BBQ or Garlic Teriyaki - 12.99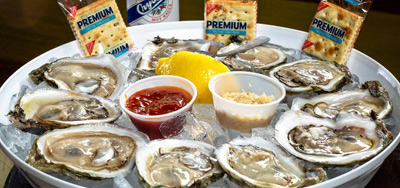 Oysters Rockefeller
Freshly shucked oysters baked with fresh chopped spinach and a blend of Italian cheeses - 13.99
Get them dirty - 11.99
Get them raw - 10.99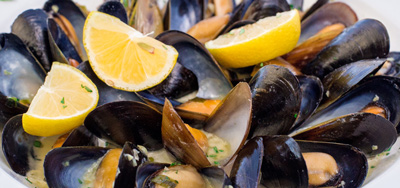 Drunken Sautéed Mussels
Fresh mussels, lemon, thyme and butter steamed in white wine and roasted garlic - 13.99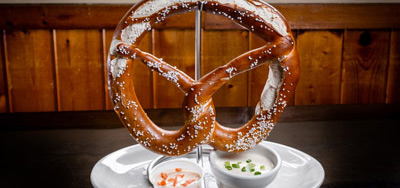 Jumbo Bavarian Soft Pretzel With white queso beer dip and tangy honey mustard - 11.99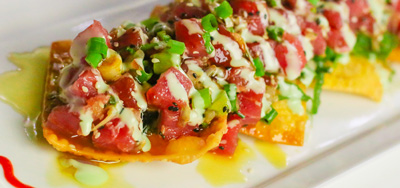 Tuna Nachos
Yellowfin tuna tartar over seaweed salad, crispy wontons, sweet soy glaze and a cucumber and wasabi cream - 16.99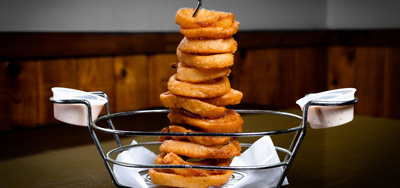 Riverside's Famous Onion Rings
Fresh onion rings dunked in beer batter then fried to a golden brown. Served with spicy aioli - 9.99



Salads
Add Chicken - 4, Add Shrimp - 6, Add Fish - Market Price

Riverside's House Salad
Caramelized onions, roma tomatoes, feta cheese, Craisins®, toasted almonds and crisp romaine lettuce tossed with a honey balamic vinaigrette - 10.99

Riverside Caesar Salad
Hearts of romaine lettuce, crunchy garlic croutons and Riverside's famous dressing - 10.99

Greek Salad
Fresh tomatoes, cucumbers, marinated red peppers, red onions and romaine lettuce topped with feta cheese and Kalamata olives - 10.99

Soups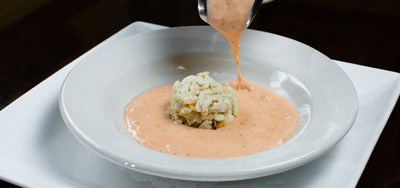 Charleston She Crab Soup
A Charleston specialty that we have put our own twist on, a creamy bisque-like blend full of blue claw crab meat and finished with aged sherry table side - 12.99

Riverside Clam Chowder, Soup of the Day
Bowl - 5.99

Soup & 1/2 Sandwich Combo
Your choice of Turkey, Tuna, BLT or Chicken Salad - 10.99


Sandwiches and More
All sandwiches come with your choice of French Fries, Potato Salad or Coleslaw.
Substitute Sweet Potato Fries - 2
Substitute Black Beans and Rice or Onion Straws - 3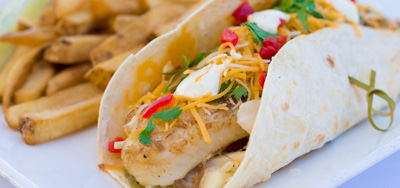 Taco
This is one of our best sellers and loved by all.
Your choice of fish or marinated chicken with shredded cabbage, tomato, guacamole and a Colby blend. Topped with our own white wine cilantro sauce
With Chicken - 14.99
With Shrimp - 15.99
With Mahi - Market Price
With Grouper - Market Price

Ahi Poke Wrap
A generous portion of our perfectly seasoned raw ahi tuna combined with rice noodles, wasabi cream, guacamole and crunchy lo mein noodles - 15.99

Chicken Sandwiches
Grilled topped with swiss cheese - 11.99
Buffalo Chicken Sandwich topped with hot sauce and our famous bleu cheese - 12.99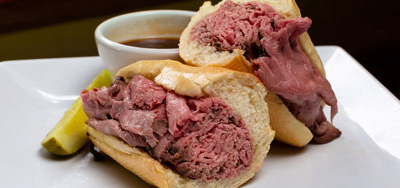 French Dip
Our French dip au jus sandwich is thinly sliced Black Angus roast beef layered and piled high on a French roll, served with au jus for dipping - 14.99

Classic Reuben
Thinly sliced corned beef, Swiss cheese, homemade sauerkraut and Thousand Island dressing on rye bread - 12.99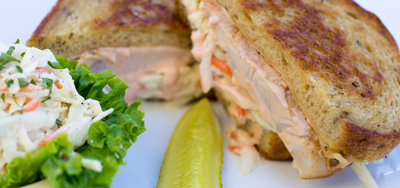 Grouper Reuben
Fresh Florida grouper, coleslaw, Swiss cheese and Thousand Island dressing on rye bread - Market Price

BBQ Pork Sandwich
Slow cooked, hand-shredded pork, tossed in our house BBQ sauce and topped with cheddar and crispy bacon - 12.99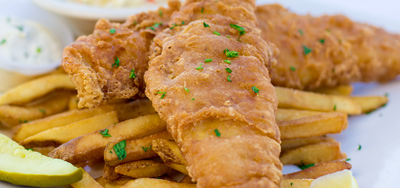 Fish and Chips
Beer battered fillet of fish served with fries and coleslaw - 14.99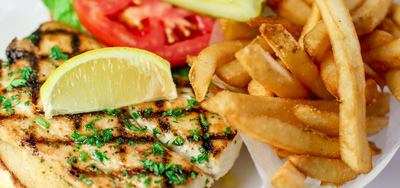 The Jake Owen Mahi Fish Sandwich
Our friend orders this every time he comes in. It's his favorite thing on the menu. If you don't like mahi, just ask your server what our fresh fish of the day is. Enjoy it blackened, grilled or fried
Available at Market Price
With Grouper - Market Price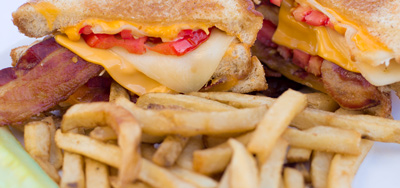 Ultimate Grilled Cheese
Seven cheeses: Parmesan, Cheddar, Colby Jack, Swiss, Mozzarella, American and Smoked Gouda on three slices of Texas toast with crispy bacon and Beefsteak tomatoes - 11.99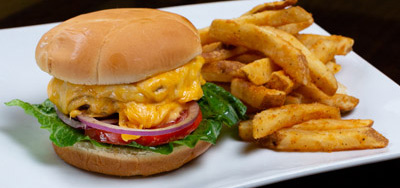 Our Classic Cheeseburger
Prime beef, lettuce, tomato, onion and pickle with your choice of cheese - 11.99; Add an egg for only $1

Black & Bleu Burger
If you love bleu cheese dressing this is a must! You have never had bleu cheese dressing like this. It took us three years to perfect this recipe and no, you can't have it - 12.99

Southwestern Fish or Chicken Wrap
Grilled chicken or fish mixed with black beans, rice, Monterey Jack cheese, caramelized onions and fresh cilantro. Served with salsa and sour cream - 11.99

All You Can Eat Sunday Brunch Buffet
Served 10 am - 2 pm; $23.99
Includes:
Hand Sliced Prime Rib Carving Station
Raw Bar - peel & eat Shrimp
Local Little Neck Clams on the Half Shell
Farm Raised Gulf Oysters
Eggs Benedict
Made to Order Omelet Station
Pork Sausage Biscuits & Gravy
Cheesy Grits, Pancakes & Hashbrowns
Applewood Smoked Bacon
Corned Beef Hash
Fried Fish
5 cheese Mac & Cheese
Chicken Wings
Lobster Bisque
Fresh Fruit & Salad Bar
Homemade Pies
Cookies, Cakes & much more.

Enjoy your breakfast with one of Riverside's Specialty Drinks OR UNLIMITED BLOODY MARY'S OR MIMOSA'S JUST $8.99
With the purchase of Sunday Brunch!

Kids Menu
For kids 12 and under - 6.99
"I Don't Know" = Chicken Tenders and Fries
"I Don't Care" = Kids Burger and Fries
"I'm Not Hungry" = Pasta with Marinara or Butter Sauce and Parmesan Cheese
"I Don't Want That" = Grilled Cheese and Fries
"I'm So Hungry" = Macaroni and Cheese


Entrees
Served anytime lunch or dinner. All entrées are served with a side salad or a cup of soup. Substitute a Casesar Salad - add 1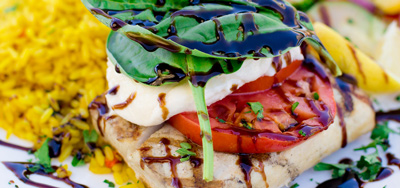 Mahi Caprese
Our "One of a Kind" seafood dish. Grilled Mahi topped with locally grown tomatoes, fresh mozzarella and basil, finished with a sweet balsamic reduction. Served with rice and steamed vegetables - 25.99

Fried Shrimp Platter
Our secret blend of panko bread crumbs and seasoned flour make for a super crunchy coating on these jumbo shrimp. Served with fries, slaw and house made tartar - 24.99

Shrimp Scampi
Pan seared black tiger shrimp tossed with fresh lemon, garlic, scallions and butter over a bed of linguini - 23.99

Grouper Picatta
Freshly caught Florida grouper egg battered then pan fied golden broen. We add lemon, wine and a caper sauce for that extra flavor! Served with rice and vegetables - Market Price

Blackened Chicken OR Shrimp Alfredo... A CROWD FAVORITE!!!
Tossed in a creamy, homemade Alfredo sauce. Served on a bed of linguini and topped with fresh broccoli and roasted peppers - 19.99 or 23.99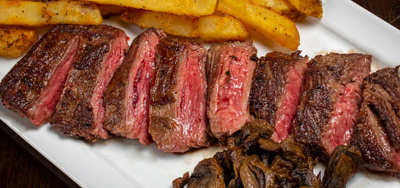 Grilled Skirt Steak
Our slowly marinated skirt steak is smothered in onions and mushrooms. We only serve this medium rare to ensure "melt in your mouth" tenderness. Served with rice and black beans. - 24.99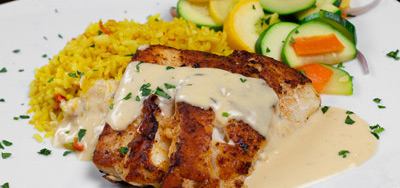 Catch of the Day
Grilled, blackened, broiled or fried. Topped with citrus cream and served with rice and vegetables - 22.99*
Mahi and Grouper are available at Market Price

Additional Side Items:
Cole Slaw - 3; Vegetable Medley - 4; French Fries - 4; Potato Salad - 3; Black Beans & Rice - 3

After Dinner Delights
Riverside has the market on homemade desserts. Whole pies can be ordered to go.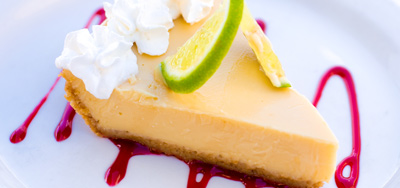 Key Lime Pie - 6.99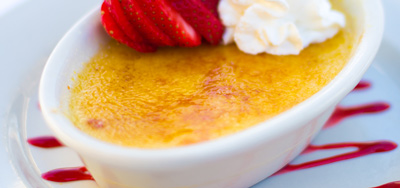 Crème Brulée of the Day- 6.99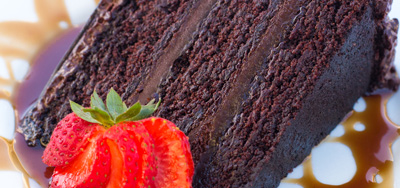 Decadent Chocolate Cake - 6.99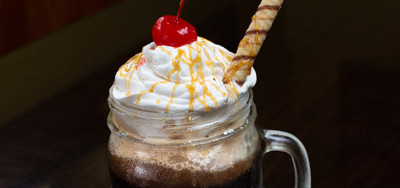 Root Beer Float - 6.99

Beverages
CHAMPAGNE
Call or visit for pricing. Lunetta, Prosecco, Italy (by the glass)
Veuve Clicquot, France (by the bottle)

WHITE WINES
By the glass or bottle. Call or visit for pricing.
Whispering Angel, France
Pinot Grigio, Santa Margarita, Italy
Pinot Grigio, Ruffino
Sauvignon Blanc, Charles Krug, Napa Valley
Chardonnay, Simi
Chardonnay, Kendall-Jackson, California

RED WINES
By the glass or bottle. Call or visit for pricing.
Pinot Noir, Meiomi
Pinot Noir, La Crema, Sonoma
Malbec, Dona Paula, Argentina
Cabernet, Joel Gott
Cabernet Sauvignon, Red Diamond, Walla Walla
Red Blend, Decoy by Duckhorn, Napa Valley

HOUSE WINES
By the glass - $7
Beringer - White Zinfandel
Century Cellars - Chardonnay, Cabernet Sauvignon, Merlot
Yellow Tail - Pinot Grigio

BOTTLED BEERS
Subject to change Budweiser, Bud Light, Miller Lite, Coors Light, Landshark, O'Doul's, Heineken, Heineken Light, Corona, Corona Light, Michelob Ultra, Bucklers, Amstel Light

DRAFT BEERS
We carry 24 beers on draft. Subject to change. Ask your server for the current selection.
We change them out a few times a year, but usually you can find:
Bud Light, Shock Top, Yuengling, Miller Lite, Coors Light, Sam Adams Seasonal, Guinness, Fat Tire, Corona Light, SweetWater, Goose Island, Golden Monkey, Magic Hat, Jai Alai, Sierra Nevada, Long Hammer Redhook, Angry Orchard, and Key West Sunset